BREAKING THE SIEGE
Operation Syrian Oasis
Defying Assad-Russian Siege, SETF Launches Historic
'Syrian Oasis' Aid Operation
Breaking the Eight-Year-Long Siege on Rukban Camp
We are thrilled to announce the first aid delivery to the Rukban internally displaced persons (IDP) camp as part of 'Operation Syrian Oasis', bringing an end to an agonizing eight-year long siege imposed by the Assad regime, Russia and Iran, and confirming SETF's continuous commitment to providing relief for the much-deserving camp residents.
The 8,000 women, children and men living in Rukban have endured abysmal living conditions and severe deprivation of basic necessities due to the blockade that has barred any aid from reaching them.
The initial delivery includes seeds and irrigation tools, which will enable the residents to cultivate their own sustenance, as well as school supplies for the over 1,000 children in the camp who have been deprived of any education. We are preparing additional deliveries of baby formula, prenatal vitamins, school books, and food items, already scheduled to be delivered in the coming weeks.
Marking a significant turning point in the siege, SETF is now the first organization to deliver aid directly to the camp despite the international community's failure to respond to their pleas.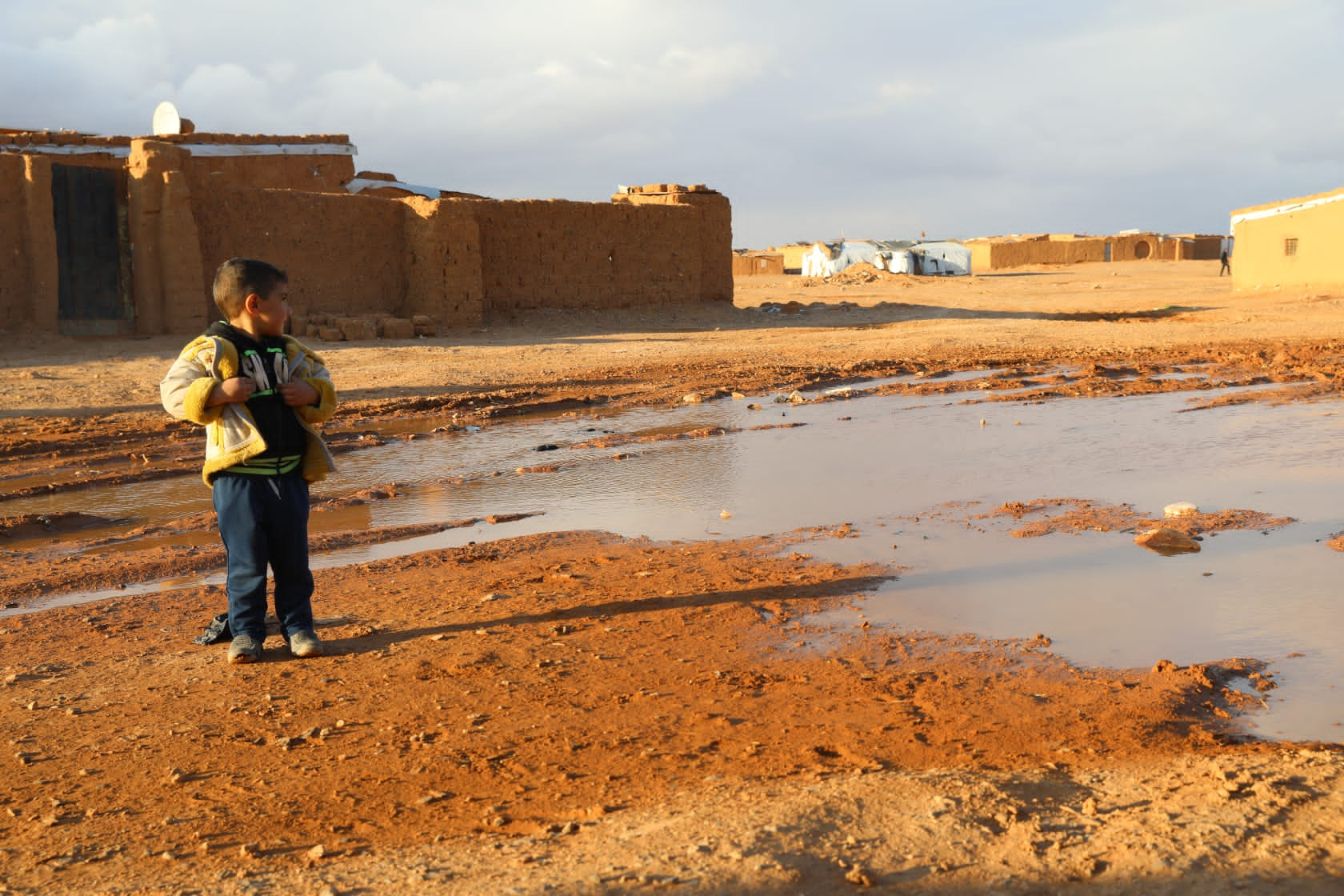 A child in Rukban is surrounded by flooded land after a rainstorm. Extreme weather is usual in the camp and causes many issues.
Be a Part of
Breaking the Siege on Rukban
SETF's presence in the area has been vital to the survival of residents. We are committed to breaking the siege on the camp and will continue to advocate for the safety and well-being of the camp's residents. 
But we cannot do this work without you and this aid is entirely funded by individual donors like yourself. Please consider donating to our "Breaking the Siege" fund to be a part of this momental humanitarian effort.
Children attend the only rudimentary school in Rukban. For years, they've survived with only three school books. The second planned delivery of aid from Operation Syrian Oasis will contain 12,000 school books for Pre-Kindergarten through 12th grade.
The milestone accomplishment would not be possible without the unwavering dedication and tireless efforts of SETF's team and generous donors who continuously support its humanitarian operations, as well as to the U.S. Department of Defense, who has extended its support through Operation Inherent Resolve (OIR), to SETF's led and funded effort by assisting with the transportation of aid to Rukban IDP Camp on a space-available basis through the Denton Program on U.S. military aircraft already traveling to al-Tanf Garrison as part of ongoing operations.
The supplies are delivered by SETF to the Ayn al-Asad Airbase, an encampment of the Iraqi Armed Forces located in the Al Anbar Governorate and then to the al-Tanf garrison where SETF staff on the ground distributes the aid to the camp civilians.
For clarity, the transportation of aid provided by SETF is based on space availability and will not impact or divert resources from the Combined Joint Task Force – Operation Inherent Resolve (CJTF-OIR)