Together for Syria
August 6 @ 7:00 pm

-

8:00 pm

EEST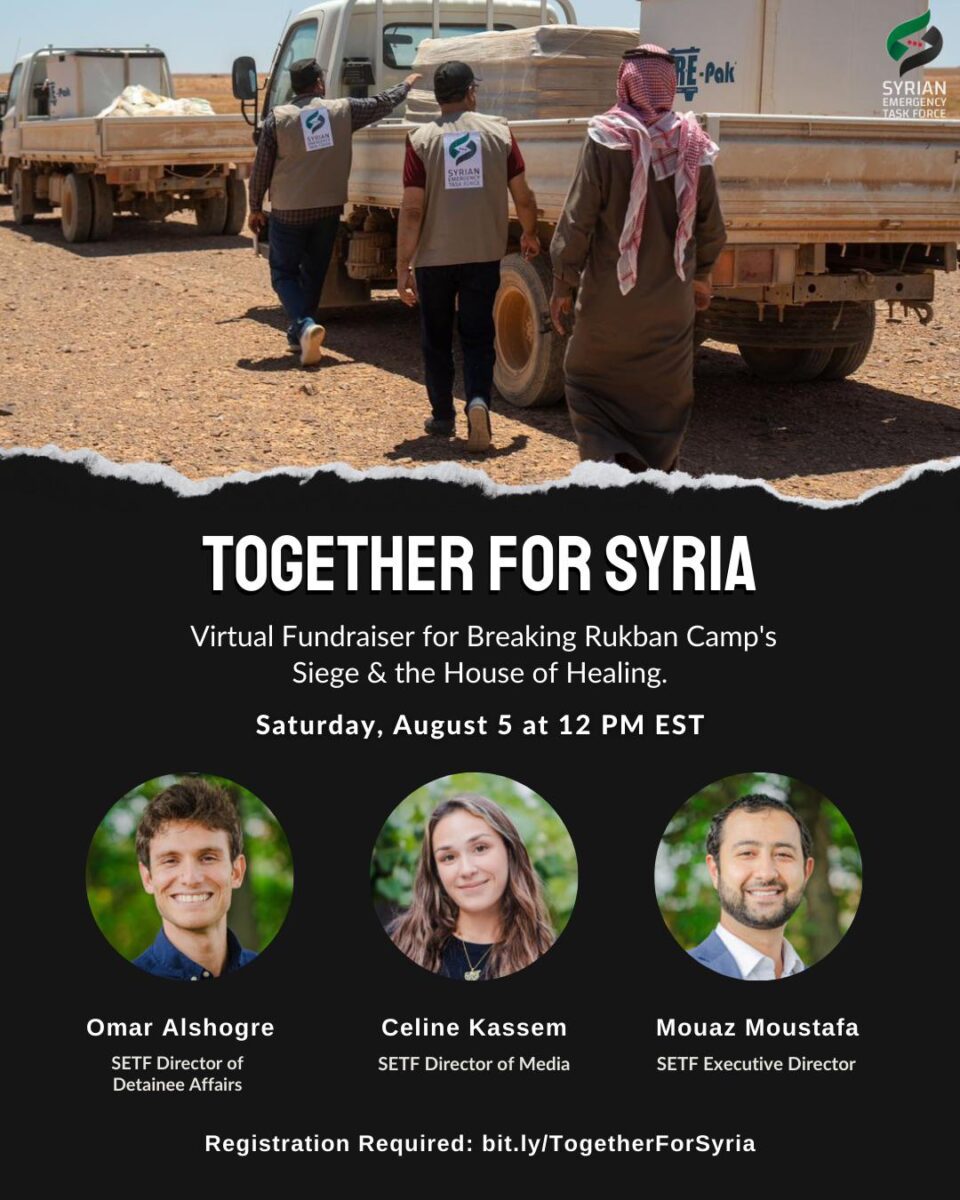 English/عربي
Join us Saturday, August 5th (English session) or August 6 (Arabic session) at 12 PM EST for a virtual fundraising event for breaking the siege on the Rukban IDP camp in southern Syria and our House of Healing rehabilitation center in Turkey.
This is an opportunity to learn more about SETF's work and impact on the ground, the importance of breaking the siege, and SETF's continuous commitment to providing relief for Rukban internally displaced persons in southern Syria and our patients in Turkey.
This year we broke the 8-year-long siege on Rukban camp through our Operation Syrian Oasis, which was entirely funded by individual donors like yourself. Come learn and be part of this monumental humanitarian effort.
Learn more at SETF.NGO
Meet and chat with our team:
Mouaz Moustaf, SETF Executive Director
Omar Alshogre, SETF Director of Detainee Affairs
Celine Kassem, SETF Media Director
Attendees will have the opportunity to chat with our team and donate to our humanitarian efforts.
https://bit.ly/TogetherForSyria Registration Required
Learn more about breaking the Rukban siege operation
Learn more about the House of Healing
---
نضم إلينا يوم السبت 5 آب (جلسة باللغة الانكليزية) أو 6 أغسطس (جلسة باللغة العربية) الساعة 12 مساءً EST لحضور حدث افتراضي لجمع التبرعات لكسر الحصار عن مخيم النازحين في مخيم الركبان في جنوب سوريا، ومركزنا لإعادة التأهيل "بيت الشفاء" في تركيا.
هذه فرصة للتعرف أكثر على عمل المنظمة السورية للطوارئ (SETF) وتأثيرها على الأرض، وأهمية كسر الحصار، والالتزام المستمر لـSETF في تقديم المساعدة للأشخاص النازحين داخلياً في مخيم الركبان في جنوب سوريا ولأجل مرضانا في تركيا.
هذا العام تمكنا من كسر الحصار الذي دام لمدة 8 سنوات عن مخيم الركبان من خلال عملية "واحة سوريا" التي تم تمويلها بالكامل من قبل المتبرعين أمثالك. تعال وتعلم وكن جزءًا من هذا الجهد الإنساني الضخم.
تعرف أكثر على المزيد على SETF.NGO
تعرف وتحدث مع فريقنا:
معاذ مصطفى، المدير التنفيذي للمنظمة السوري للطوارئ (SETF)
عمر الشغري، مدير شؤون المعتقلين في المنظمة السورية للطوارئ(SETF)
سيلين قاسم، مدير الإعلام في المنظمة السورية للطوارئ (SETF)
سيتاح للحضور فرصة التحدث مع فريقنا والتبرع للجهود الإنسانية.
https://bit.ly/TogetherForSyria التسجيل مطلوب